***Please note, these steps are only to be performed if you have a cable Internet connection. Do not proceed if you use DSL, as disconnecting your phone line will lead to a loss of Internet connectivity.***

Before moving forward, please keep safety in mind. If you do not feel comfortable performing this installation please consult an electrician.

Step 1: You must first disconnect your phone line from the outside Demarcation Point, or Network Interface Device (NID). To disconnect your phone line, you must find the NID for your home. This is generally a gray box mounted to a wall and may be found either outside the home or in the basement. Then, open the box using a screwdriver. (Figure 1).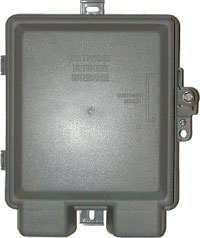 Figure1: Network Interface Device



Step 2: You now have access to the wires that are going into your home from the NID. You do not have access to the wires coming from the street to the NID. There is also a ground wire coming from the NID, this wire is usually green. Never disconnect this wire as it is a provided safety measure. You must now locate the correct wire, that would generally be used by your local landline provider, and disconnect it. For many homes you have two phone ports that have a short phone cord connected to it (Figure 2). Simply unplug the short phone cord from its socket and leave it disconnected.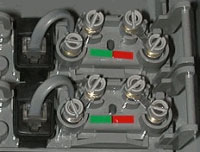 Figure 2: Inside the box



Step 3: At this time it is recommended that, using electrical tape, you wrap the end of the plug so that the phone company will not try to connect it. We also recommend writing "Do not reconnect. This may damage inside equipment." on a piece of tape and adhere it to the inside the box. Then, close the box using the provided screw.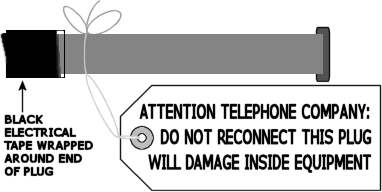 Step 4: When inside your home, pick up a phone that worked prior to the disconnection at the NID. If your phone has no dial tone you were successful. If your phone still has a dial tone, we recommend that you contact an electrician, or the local landline company and have them assist you in disconnecting your phone line.

Step 5: Connect a phone cord from your ViaTalk adaptor into the closest available walljack. Then, connect the ViaTalk adapter to your broadband connection. Once the adapter has registered, your walljacks should now support ViaTalk.

LEGAL DISCLAIMER:
The ViaTalk staff has attempted to make these instructions as clear as possible to benefit you, the customer. ViaTalk may not be held liable for any damage that may occur to your equipment, home, or other personal/public property during this installation. You assume all risk when using this guide. If you do not feel comfortable performing this installation please consult an electrician.

*Some pictures and information were taken from Michigan Telephone